Office Decoration Tips With a Minimalist Model Sofa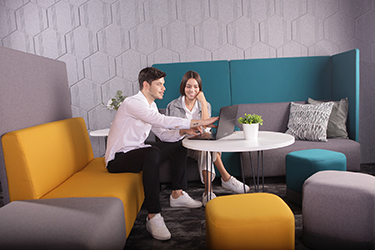 The office should be made as comfortable as possible especially if you spend hours every day to complete various tasks. The selection of furniture for the office must also be done as well as possible. For a sitting area, for example, a sofa is the right choice because it is more comfortable to sit on. The sofa can be placed in the office or office waiting room as needed. Sofas are usually also provided to accommodate guests or clients who come to the office so they can sit comfortably.
Minimalist model sofas are mostly chosen, especially to be placed in offices. This is due to its uncomplicated design and office-friendly design. If you plan to decorate your office with a minimalist model sofa, here are some tips that you can use for maximum results:
Choose a minimalist sofa model because the design is suitable for application to any stylish room. The minimalist model sofa also doesn't take up a lot of space so it can be placed in even a room that isn't that wide. If you want to install more than one sofa in your office, you can choose sofa sets so you don't have to buy them separately.
Choose the color a minimalist model sofa which is neutral if it is for office needs so that the professional impression is not lost. Even so, you can also be a little playful by choosing a minimalist model sofa with a slightly lighter color. However, you should avoid sofas with excessive color combinations because they can disrupt your work mood.
Choose the type of sofa you want to be placed on. If you want to place a sofa in your workspace, choose a sofa with one or two seats so it doesn't take up much space. However, if the sofa is to be placed in a more open space such as the waiting room, choose a wider one, for example a three or four seater sofa so that it can accommodate guests.
For recommendations, you can visit the official HighPoint Furniture website where a variety of furniture is available, including minimalist model sofas for offices. There is a MOJO series sofa with seater options ranging from one to three seaters. There is a choice of sofas with or without back rest or arm rest.