HighPoint Acoustic Ceiling Treatment Creates An Acoustically Beneficial Sound Environment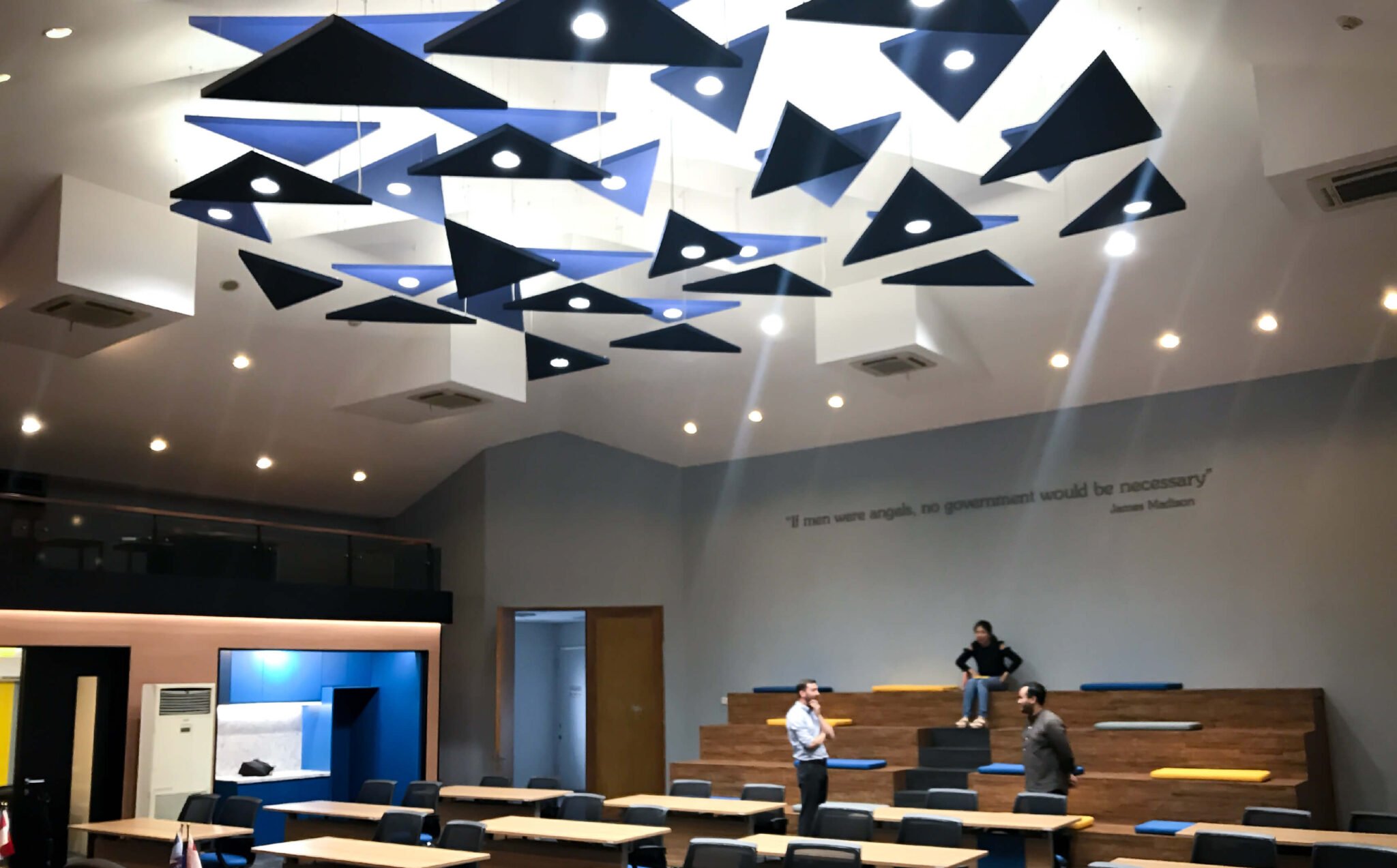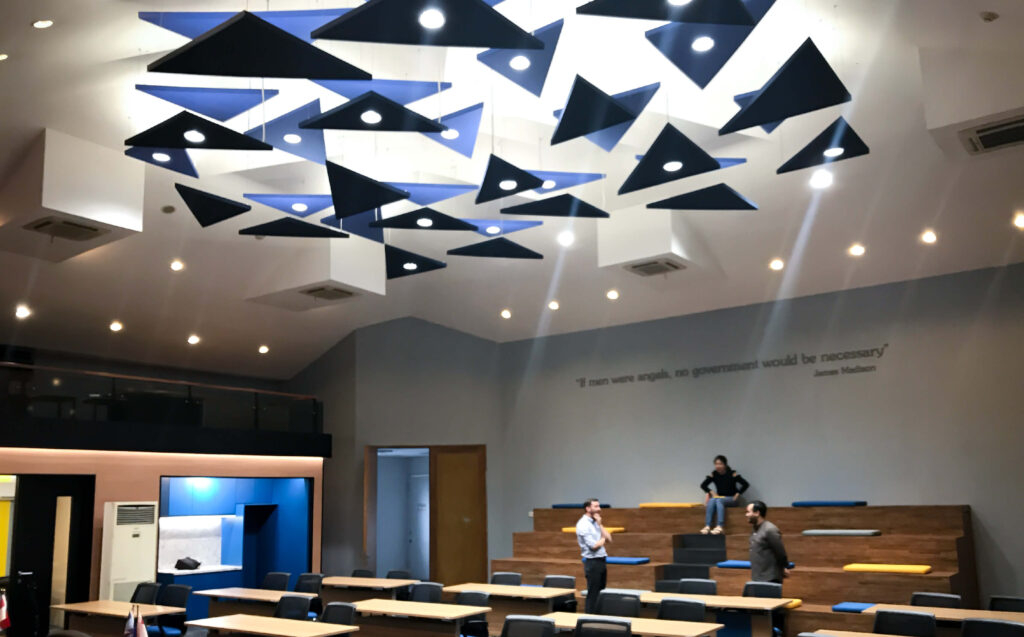 Owners of the building faced a conundrum: How to create Great Acoustic in an auditorium for Live and Interactive space? KPP Demokrat incorporated HighPoint Acoustic as part of a unified acoustic solution to control sound reverberation. HighPoint Acoustic CUBE 24 mm with customized design by HighPoint inhouse team add a twist to the traditional baffle look, providing a bold visual statement and great acoustic design.
ABOUT KPP DEMOKRAT WISMA PROKLAMASI
A place for government officials, KPP Demokrat Wisma Proklamasi boasts the largest shared auditorium and media-press facility. The auditorium is a gathering area on the third floor where people can hold weekly gatherings, press releases, workshops, forums, and can even be utilized as a social hangout for staff and network to share stories and ideas.
Project Name : Auditorium KPP Demokrat
Location : Wisma Proklamasi, Jakarta
Inquiry : Solution to absorb noise reverberation in big and crowd space
THE CHALLENGE
The main issue at hand was having a large amount of space occupied by several people, but also having to focus at the main event on stage as well as keeping the reverberation level set to a main source; the stage. The concept was to create an efficient room as they work as separate spaces, but also could be unified if there is a presentation in the main space. With this specific concept, an acoustic solution was needed due to the number of people talking, sound systems, and other loud activities taking place.
THE SOLUTION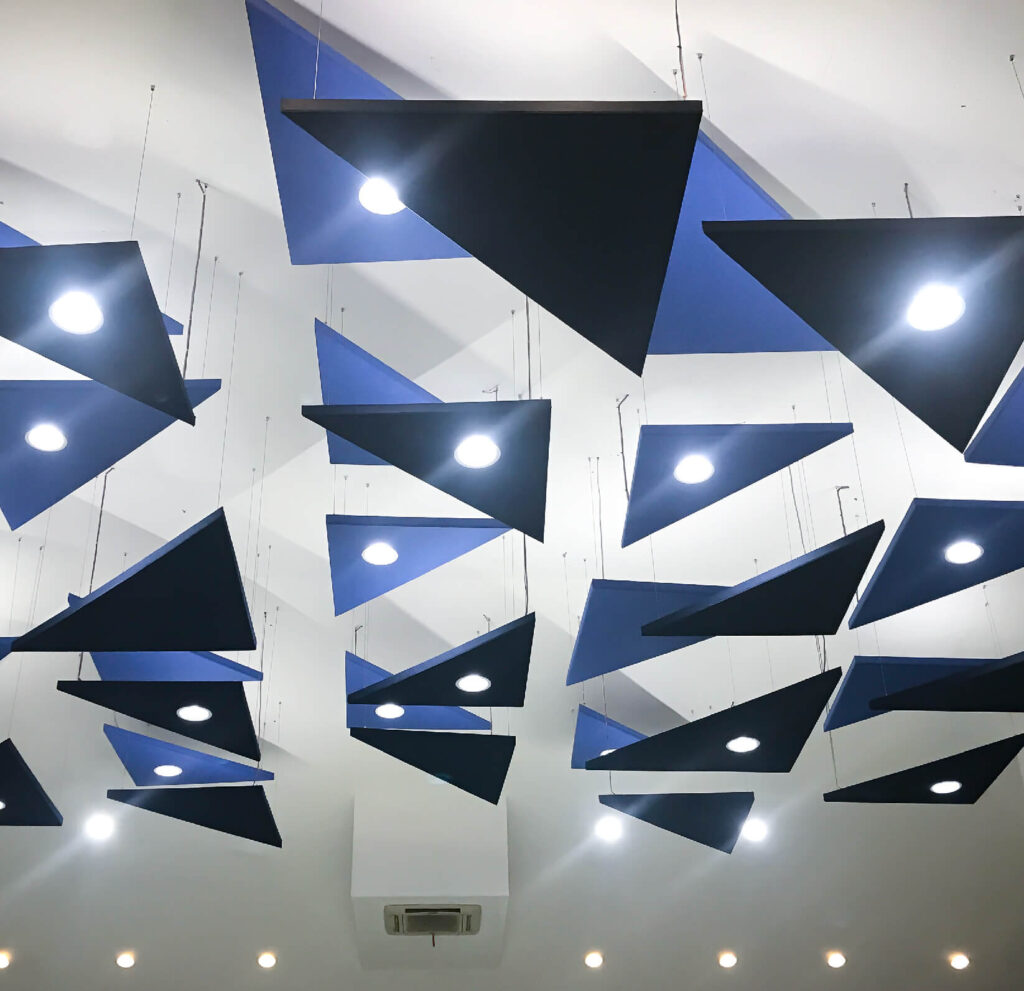 KPP Demokrat opted for HighPoint Acoustic as their acoustic solution; as well as the floating triangle hanging accessories were installed by HighPoint in-house construction team throughout ceiling, helping disperse and absorb excessive sound. The hanging ceiling is also treated with excessive cool-white recessed lighting (downlight and hidden lamp)
THE RESULT


HighPoint Acoustic CUBE 24 mm with customized design installed generate less reverberation throughout the facility, creating an acoustically sound space with a unique, eye-catching design.

Contact us now to get free consultation on your acoustic problem. Our HighPoint Acoustic Specialist will be able to give you a well rounded information and acoustic solutions.
We also provide other decorative products such as floorings e.g. premium carpet plank CarpetsInter also applied through KPP Demokrat Wisma Proklamasi Auditorium.