Covid Safe Work Solution in #NewNormal

In the midst of the ongoing pandemic, not everyone can work from home, most of them are still working in offices or workplaces, therefore safety and health protocols in the workplace must be improved to prevent the spread of the COVID-19 virus in the work environment.
Apart from preventing it by implementing health protocols recommended by the government, some equipment or office furniture must be adjusted as a measure to prevent the spread of the COVID-19 virus so that every worker always feels safe doing work so they can be more focused and productive.
The following is the Covid Safe Work Solution which can be applied to the Highpoint version of the workspace:
1. MOVEABLE SLED
Serves to create protective workspace boundaries between employees. Moveable Sled an effective solution if the workspace is an open system / open plan workspace. Moveable Sled also has other benefits, namely in the form of sound absorption and a functional whiteboard can be added.
2. PRIVATE POD
Private POD could be a solution for working safely during this pandemic. The acoustic panel in the private POD can absorb sound well. Private POD is also equipped with tables, comfortable sofas and also power sockets to support work productivity but still apply the physical distancing protocol.
3. EXTENDER TABLE SCREEN
Installation is very easy to any panel with the right size. Extendeer table screen as a barrier to provide protection from droplets, and also increases the height of the existing partition.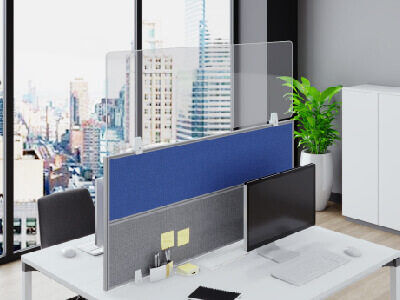 4. RECEPTION SCREEN
Provides protection but still allows communication two-way without hindrance because the screen is very clear. Reception table screens can be a solution for front liner workers who must continue to serve customers during this pandemic.
5. ACOUSTIC TABLE SCREEN
Table screen provides protection by creating a boundary between tables. Apart from being a protective barrier, the table screen can muffle sound and provide employee privacy when needed.